Business Overview
Please contact the following Economic Development Leadership for additional information:

Robin Sargent, Town of Andrews Economic Development Lead
Paul Worley, Director of Economic And Workforce Development
Each year, millions of visitors flock to Cherokee County and the Smoky Mountains and Blue Ridge Parkway to enjoy what our community has to offer.   Locating your business or industry to the Andrews Area within Cherokee County, North Carolina not only places you in one of the most beautiful places in the world, it also affords you an un– compromised opportunity to grow your business while enjoying the beauty of our County year-round.
The Andrews Area prides itself on its pro-business attitude where the local and state government is a partner not only when recruiting your company to the town but serving as your partner after you've located. Andrews area has a great selection of available of value priced buildings and sites that are ready for your company.  
IMPORTANT LINKS:
Exceptional beauty, a strong workforce, and a pro-business outlook are just a few of the many reasons companies succeed in the Andrews area.   We welcome new business and industry – large and small – to Andrews as our citizens and leadership committed to work hard to help you succeed. Come spend time with us and find out what others already know – Andrews is a great place for business and industry to call home. Andrews is open for your business!
Market Overview
In 2017, Andrews & Cherokee County, NC had a population of 27.5k people with a median age of 50.8 and a median household income of $38,115. Between 2016 and 2017 the population of Cherokee County, NC grew from 27,226 to 27,463, a 0.87% increase and its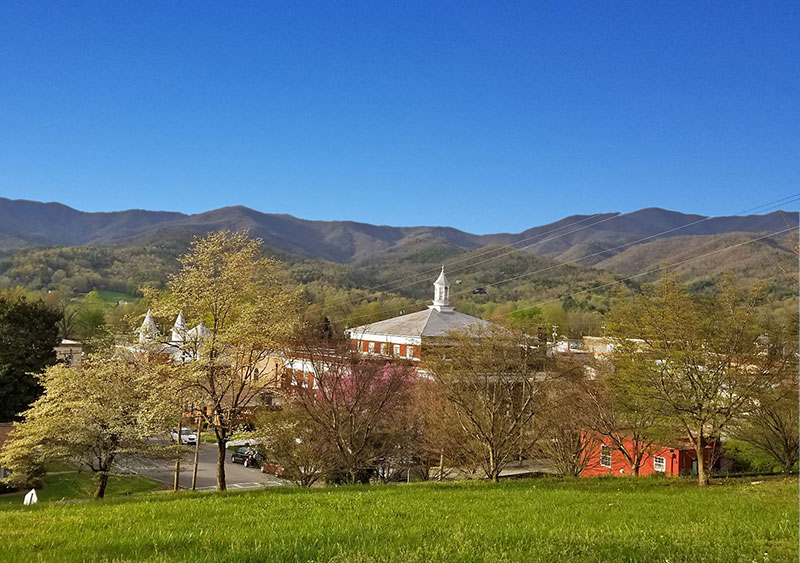 median household income grew from $35,284 to $38,115, a 8.02% increase.
The median property value in Cherokee County, NC is $145,500, and the home ownership rate is 80%. Most people in Cherokee County, NC commute by drive alone. Average car ownership in Cherokee County, NC is 2 cars per household.
Cherokee County, NC borders Monroe County, TN, Macon County, NC, Fannin County, GA, Union County, GA, Polk County, TN, Clay County, NC, and Graham County, NC.
From 2016 to 2017, employment in Cherokee County, NC grew at a rate of 4.97%, from 9.46k employees to 9.93k employees.
The most common job groups, by number of people living in Cherokee County, NC, are office & administrative support occupations (1,353 people), sales & related occupations (1,188 people), and management occupations (858 people).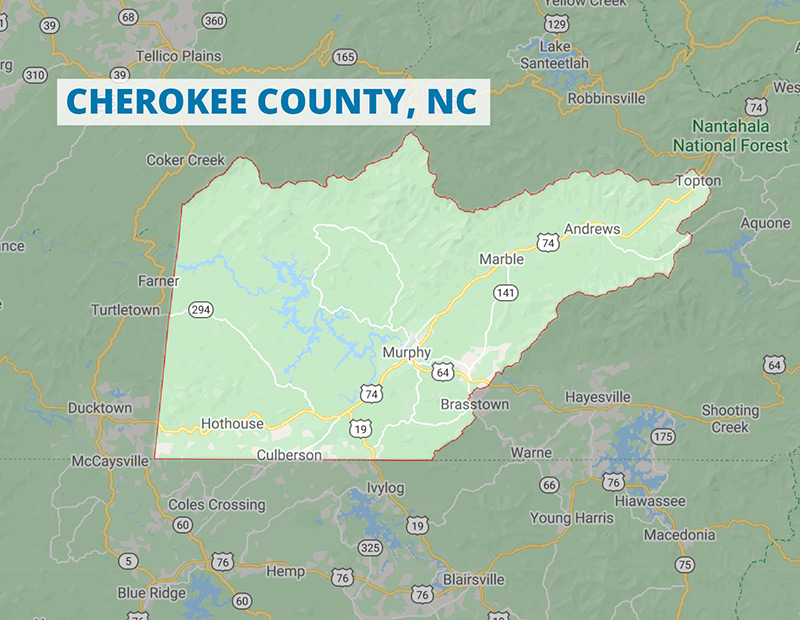 The economy of Cherokee County, NC employs 9.93k people.
The largest industries in Cherokee County, NC are Retail Trade (1,441 people), Health Care & Social Assistance (1,441 people), and Manufacturing (1,280 people), and the highest paying industries are Utilities ($83,750), Agriculture, Forestry, Fishing & Hunting ($52,222), and Agriculture, Forestry, Fishing & Hunting, & Mining ($44,821).
Median household income in Cherokee County, NC is $38,115. Males in Cherokee County, NC have an average income that is 1.34 times higher than the average income of females, which is $44,729. The income inequality in Cherokee County, NC (measured using the Gini index) is 0.473, which is lower than than the national average.